Hayley & Cameron married Dec. 2017 at The Grand at Moon Palace Cancun
My husband and I decided to have a destination wedding because my family is from the U.S and his family is from Canada. We decided it would be easier to have a neutral location and be able to make it into a week long family vacation while soaking up some sun! I had no idea where to start so I reached out to Victoria. We planned my wedding in about 9 months. She was so easy to work with which made the process stress free! She booked my family from the U.S and my family from Canada so it was nice not having to work with two different people. I was over the moon happy with how it turned out! The vendors that I worked with Moon Palace were great to work with and made everything perfect. If I had any questions or couldn't get answers from the hotel, Victoria stepped in and got the information and everything I needed for me. I will be using Victoria to book more trips we plan or vow renewals later on! Highly recommend!!!
Elise & Clint married Jan. 2018 at Moon Palace Cancun

We met with Victoria about a year and a half ago when we decided that we were going to have a destination wedding. At the first meeting, Victoria had brought great options for resorts to choose from, based off of the information we had provided to her. We chose one of the resorts Victoria had recommended as it could accommodate the potential wedding size we might have had. It was such a pleasure working with Victoria...she was always kind, easy to work with, encouraging, supportive, accessible, and caring. She was able to organize travel arrangements for 116 guests from across Canada and the US, making sure that we got the best deals possible and everything travel wise was arranged and lined up for us once we arrived. We would highly recommend Victoria to anyone who is looking at planning a destination wedding. Not only is she extremely knowledgeable, competent, capable and efficient, it felt like working with a friend. Thank you very much Victoria!!

Chelsey & Xavier married Jan. 2018 at Azul Fives, Playa Del Carmen

Victoria was so awesome to work with. She gave us the best price for the resort we wanted. We had guests from all over the world (Canada, France and Australia) and she was able to accommodate us all! Our day was beyond perfect! Azul Fives was such a great place to get married, and I would highly recommend it to anyone!! Our photographers and videographers also have done an AMAZING job!

Monica & Jeff married April 14th, 2016 at Jellyfish Restaurant , Punta Cana

​Victoria was excellent, she was very patient with us and ensured we found the perfect place within our budget. She was very quick to respond which made us feel we were in good hands.
Natasha & Bryan married Oct. 3rd, 2016 at Jewel Runaway Bay, Jamaica
We hired Victoria to plan our destination wedding in Jamaica. Victoria was awesome to work with. She listened to what we wanted, helped us with our vision, and most importantly helped us with staying on budget. She recommended areas to save and to make the decor our own. Since many resorts offer basic linens and basic colors she made the suggestion to check out linen rentals in Calgary before going out. We met Victoria at the linen rental place and she helped us with our linen choices. We did end up renting and bringing the linens and such to the resort and let me say we got so many compliments from the wedding team there. This is just one example of Victoria ensuring our budget was a priority and that our wedding was the vision we wanted. Thank you so much Crystal Water Weddings (Victoria)
Kayla & Blair married October 12th, 2016 at Konoko Falls, Jamaica
My Fiancé and I decided to plan a destination wedding. However we did not want your traditional beach destination wedding. We contacted Crystal water weddings and was put in touch with Courtney Anderson. She was absolutely amazing and went above and beyond. Her service was worth more than what we paid in the planning fee as well as bringing Courtney with us.
We wanted a destination where we could have a waterfall wedding that we could customize to our liking then go back to our resort for the dinner as we had small children who would be tired. Courtney found us an amazing destination at a great resort in Jamaica and a ceremony site at Konoko Falls. I had given Courtney what felt like a hundred pictures of exactly how I wanted everything to look. Courtney out sourced flowers, decoration, food, etc. from an independent company. This literally saved us thousands of dollars. We had originally quoted all of the flowers, decorations, food, etc. from the hotel which was more then double that of the independent company. Courtney also recommended a photographer, hair dresser and makeup artist who also blew away our expectations. Everything turned out much better then I imagined it could considering you do not get to see anything till day of. It really was our fairytale wedding thanks to Courtney.
We did have a hiccup along the way due to Air Canada/Air Canada Vacation. Courtney handled all of it very professionally and not only was the problem corrected Air Canada Vacations compensated us thanks to Courtney.
We would highly recommend Courtney to our friends and family and anyone who asks.
Kayla Bolton

Brittany & James married June 14th, 2016 at Azul Fives, Playa Del Carmen
We loved working with Victoria, she helped us plan our magical destination wedding! She recommended that we stay at the Azul Fives and we could not be happier with the outcome! It was a perfect day even though we had some communication issues with the resort she helped us sort them out!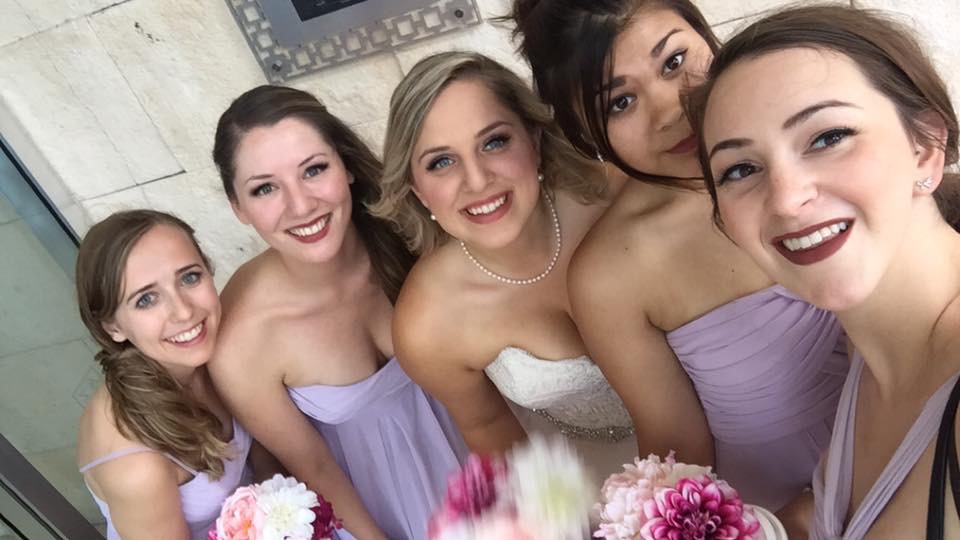 Henlo & Larissa married April 14th, 2016 at Moon Palace
Victoria Chudleigh is a consummate professional. She was easily accessible (surprisingly late at night or early in the morning), was always cheerful and quick to offer help or a solution. She responded within 1-2 hours to emails and within 10 minutes to texts even though I know she has a young family at home. I easily can say that I would recommend her services to anyone and that I was so impressed with her amazing work ethic. We had difficulties with VISAs for some of our family members who booked with other services and agencies, yet Victoria (while on vacation with her family) was quick to offer help and get actively involved even though it was after our wedding. I will continue to use Victoria for all of my travel bookings and I really trust and appreciate her. Her wedding services were definitely worth their value and it really saved me from bickering with vendors (and at times my partner) so we could enjoy our special day. Her impeccable taste and style was very quickly apparent, and although I am a control freak, I knew I would have the classy/stylish wedding I was envisioning. She brought table samples/set ups, made I'm sure over 500+ calls and emails to all of our vendors and location wedding planner for us and it went so smoothly. There were NO hiccups. COULDN'T Believe how smoothly our day / week went. The majority of my troubles came from demanding family - too bad I couldn't sick Victoria on them!!!! Many many thanks Victoria. Please feel free to use me as a wedding reference at any time. With much appreciation and love Henlo and Larissa (the new Mr. and Mrs.)
Paige & Ken married April 21st, 2016 at Memories Flamenco, Cuba
Victoria was so easy to talk to and deal with whenever any issues may have come up. I would recommend her services to anyone and everyone. She made choosing the resort a very easy and quick process, she was always available when i needed her, day or night.

Taryn & Cam married June 3rd ,2016 at Ocean Coral & Turquesa
Courtney has been nothing short of amazing. For all of our travel and planning needs she has been there every step of the way. Although there have been bumps along the way, all of which are out of her control (she can't fly a plane or predict weather. She's not mother nature after-all) she has done everything she can to make things right again. We had our wedding on June 3rd in Cancun and decided to take Courtney with us. It was the best decision we made. She went above and beyond anything we could have ever asked from her. From travel, to excursions, to just having someone to talk to, Courtney was there for us 100%. Our wedding day had some bumps in the road (all which were out of anyone's control and at no fault to anyone) and thanks to Courtney she took all the stress out of us and handled everything extremely well. She has become more than just a wedding planner to us. She has become a great friend that I can now call and chat with about anything. I honestly don't know what we would have done without her. In the end of this experience I have to say that my husband and I gained an amazing new friend who is very special to us. Our wedding may be over, but Courtney will forever be someone who we will appreciate, respect and call our friend for the rest of our lives. We thank her for making our day (and our entire vacation) the best it could have possibly been. Our hearts are warmed by her kindness and generosity. Thank you so much, Courtney!!

Rich & Chelsey married October. 9th, 2015 at Memories Varadero
Rich and I are so grateful to have had you, Courtney, over the past year and a half working away on our wedding. We couldn't have been happier – we had so much fun. It really is a testament to how good you are when you can handle Rich and I (along with our families)! You are the very best and probably have the most patience of anyone we know. You are wonderful at what you do and such a beautiful person. I can say that I've made a life long friend! Our day would not have been nearly as wonderful without you helping us along the way – and we mean that with our whole hearts. Thank you for all your hard work, reassurance, and making our day seamless even with the hiccups at the resort!
Kayla & Neil married November 17th, 2015 at Ocean Coral & Turquesa, Puerto Morelos
My fiancé and I had contacted a few different vendors, however the moment we spoke with Victoria at Crystal Water Wedding we felt a calmness with how easy she made everything sound.. She took a list of everything we wanted for our wedding & guests, it was only within a day's that she had a list of resorts that would be perfect for us. She sent out all save the dates to our guests with all travel information and her personal contact. Victoria helped us every step of the way, her quick response to any and every question or concerns we had was amazing! (even when it was a few silly worries at 10pm in the evening) ;) She also was in constant contact with us and our guests for any and all needs required or sudden changes that needed to be made. When we realized we had over booked our reservation to our destination on one flight she was able to price match and find us the same deal with another airline, also provided us (bride & groom) with a few more perks to ensure our comfort and ease for travel. She was even in contact with us after our wedding to concradulate us and ensure everything went smoothly with guest travel and the wedding, also to see if she could do anything further for us! I can't express how awesome working with Victoria was, she was a pleasure and I strongly recommend her to anyone planning a destination wedding! Though the wedding is over, I'd have to say I'll miss being in contact with her! She is now planning one of my friends weddings taking place in Cuba next April!
Thank you Victoria!!!
~Kayla
Allana & Chad married May 11th, 2015 at Memories Varadero

I experienced the happiest day of my life. My husband and I were married on a stunning beach in Varadero, Cuba. It was everything we could have wished for. We were able to spend a phenomenal week surrounded by our family and friends that travelled from various areas across this country to all meet in paradise.
The planning for our special day started back in April of 2014. My husband and I knew we wanted to travel south for our big day, but we didn't really know where to start. While searching for how I should even begin planning our destination wedding, I came across Crystal Water Wedding's website. Courtney Anderson from Crystal Water Weddings responded to my inquiry almost immediately. It was wonderful talking to her about all of my ideas and have her answer all of our questions before even getting started. I immediately felt comfortable talking to Courtney. I cannot even begin to count the number of conversations that were about a simple question and turned into us talking for close to an hour, about everything under the sun. After that phone conversation it all kind of took off. She was extremely flexible with scheduling times to meet up and helped my husband and I understand the steps of planning our destination wedding. She was our communication line with the resorts and planners. Luckily she was there to smooth out any hiccups along the way. She made sure to get all of our questions answered, even if I'm sure it took her multiple tries. One thing I absolutely loved about Courtney was that she truly cared about making our dreams come to life, while trying to take all the stress she could off of us. We knew we were a priority to her. The night of our flight to Varadero, Courtney stopped by my parents house, where a bunch of us were finishing some last minute packing and kicking off our holiday with some laughs and beverages. She made sure she came by to not only send us off, but to bring us our first lovely wedding gift and some decorations she had picked up for our big day. That kindness really touched my heart. That's when I really knew that our special day meant as much to her as it did to my husband and I.
As incredible as our wedding day was, there were definitely things that did not go the way we had initially hoped. Courtney, and Crystal Water Weddings, were by no means responsible for the unfortunate issues. Sadly, it had to do with the resort we selected. A big part of having a wedding in paradise is being accepting of that easy going way of doing things. My husband and I were adamant on having a worry and stress free wedding week. So thankfully we were able to let a lot of those unplanned surprises roll off our shoulders. Although many things did not go the way Courtney and I had expected them to go, it was extremely beautiful and a great time none the less. We said "I do" with the sand under our toes and our first kiss was by the sea. It was everything we had hoped for, being surrounded by love. I would highly recommend Courtney and Crystal Water Weddings for anyone looking to get married in paradise.


Selena & Troy married April 24th, 2015 at Riu Negril, Jamaica

Having courtney to help plan our group was a great experience. Courtney went above and beyond the expectations we had of her to make sure our wedding was wonderful! Over the course of the year of planning courtney became more than a travel agent and more like a friend. She was always there to answer any questions I had and offer any advise from her experience. We were very great fun to have Courtney to help us with our planning and would reccomend crystal water weddings in the future.
Thanks again
Selena
Patricia & Ryan married April 30th 2015 at Hard Rock, Puerto Vallarta
I just wanted to share my amazing experience with Victoria at Crystal Water Weddings! I truly do not believe that I would have been able to have stayed as sane as I did if it weren't for all of Victoria's endless help and support throughout organizing our wedding. I contacted Victoria back in July of 2014 so start the process of organizing our wedding for April 30, 2015. When I first contacted Victoria I wasn't sure of which location I wanted to marry the man of my dreams, but with her guidance and a budget in hand, she helped guide me towards the Hard Rock Vallarta. Victoria listened to all my wants for the wedding, and helped us find the perfect place. Victoria helped to organize our whole group bookings and made sure to stay in contact with everyone to keep them in the loop, which saved me a lot of stress. I had a fun group of people coming (but also a lot of people who are needy and people who made a lot of changes) and there was Victoria every minute to save the day and to save me the stress and the headache. I truly can't even stress enough how great she was. She worked so hard to make everything run so perfect between airlines changing flight schedules and accommodating all the demanding needs of the people attending my wedding. If I could offer any advice to anyone looking to book a destination wedding, do not hesitate to have someone with experience help you. Victoria is truly a necessity if you're planning a destination wedding!!


Courtney & Scott married February 14th 2015 at St. James Morgan Bay, St. Lucia.
I found Courtney (my lil gem in the rough) at a Bridal show in Edmonton back in September 2013. At that particular point my fiancé and I were not certain as to whether we wanted to do a destination wedding or a local one. Both of our families live in Eastern Canada and we were currently located near the Rockies in Alberta. So regardless where the wedding took place, people would have to travel. Adding to the equation was me being pregnant. We were planning to wed some time in 2015 at which point we would be engaged for 3 years.
I expressed my concerns with Courtney of doing a destination wedding during a follow up call she made to me. It didn't take her long to convince me that a destination was the way to go and we narrowed the local down to St Lucia! Being pregnant and predicting I wouldn't have a whole lot of spare time to plan a wedding, I jumped at the opportunity to hire Courtney as our wedding planner...great move!
Courtney has, on numerous occasions, depleting my stress, worries and anxiety that arose during this whole wedding preparation process. I honestly could not imagine (us) doing this process without her help and guidance. She listens to you and figures out quickly what you would like and not like all the while ensuring you stay within your budget. She was able to source out a number of ceremony locations for us (outside of the resort) and various photographers so we could ensure our wedding is nothing short of perfect. Without Courtney's advise, expertise and opinions I'm certain the wedding would fall short of our expectations.
Our wedding was absolutely beautiful! The garden gazebo at St James's Club Morgan Bay provided us with a breath-taking view of the ocean. There's something magical about having waves crash upon the shore below you as you read your vows to your partner. Our beach reception provided the perfect atmosphere for our guest to relax and celebrate with us. The food was amazing and we are truly thankful for all the work St James's Club Morgan Bay and Crystal Water Weddings did to make our day so memorable and pleasurable. Much love, Courtney & Scott.
To say we're thankful for all the help and support Courtney has given us through this process is truly an understatement. For the last year and a half she has been more than a wedding planner- she has been my friend. "Thank-you" just isn't enough for that.
Love
Courtney & Scott
Kathy & Ryan married Noember 18th 2014 at Moon Palace, Riviera Maya
My husband and I used Victoria Chudleigh with Crystal Water Weddings as our travel agent to book our wedding. She was fantastic! I had met with her about a year in advance to go over destinations for the wedding. She brought a lot of suggestions of where to go based on our group size and what we were in visioning for the wedding. We decided to go with Moon Palace Resort in Cancun. I highly recommend this resort, the wedding packages were beautiful. We had 26 guests with us, which was perfect for the size of the resort because it gave you opportunity to hang out with everyone or also give you space if you needed it. Throughout the process Victoria kept us in the loop about every aspect. Our flight was changed from Sunday to Sunday to Saturday to Saturday, but she made the transition flawless. Our guests could also get a hold of her very easily if they had any questions what-so-ever. All in all it was a great experience dealing with her and also anyone at Moon Palace. Thank you Victoria for making this very special! :)
Barry & Jennifer married November 19th 2014 at Grand Sunset Princess, Playa Del Carmen
My husband and I would like to thank Courtney at Crystal Water Weddings for the destination wedding she had prepared for us in Playa del Carmen Mexico, we tried other wedding planners but they just didn't have the knowledge or enthusiasm our friend Courtney had, we found Crystal Water Weddings on Facebook. I browsed through their website and discovered that this was the company for us, I then messaged them and got a quick response that Courtney would be looking after all our wedding wishes. After a year and a half later of planning and getting everything figured out, we finally tied the knot, Courtney was the right girl for us right from the first time we talked with her, she made all this wedding planning an enjoyable one, we had a lot of laughs together and as time moved on we became very close even though we had no idea who she was, things just seemed to gel with her we had so much to talk about didn't matter what the conversation was about she always listened to what ever we had to say, if we had any concerns she was quick to respond, we especially appreciate Courtney for all the hard work she did for us we have no complaints with Courtney or this company and would highly recommend it to anyone!!! It all started as a work relationship but now I have a friend for life and future life travel agent. I can not thank Courtney enough for all that she has done and believe me she went above and beyond to make everything perfect, she helped ease the stress that came with planning our wedding, even though a lot of thing's went wrong with our wedding (ALL TO DO WITH THE RESORT THAT WE CHOSE), Courtney had our back and quickly fought to make everything right even though she had no obligation to help us out this to us meant the world and we will forever be grateful. Planning a wedding is extremely stressful not to mention a destination wedding, Courtney took most of the stress away and was always there when we needed her.
We love you Courtney for everything you have done for us and we look forward to meeting you some day soon.
Barry and Jennifer Johnston

Christie & Fraser married May 6th, 2014 at Dreams Villamagna, Puerto Vallarta

Victoria from Crystal Water weddings did an amazing job in organizing our wedding. They got us a great rate for all our guests at an absolutely fantastic resort in Mexico (the Dreams Villamagna). She contacted our guests to alert them of changes, and took care of all the details for our guests. We loved working with Victoria and we would highly recommend Crystal Water weddings.
Tammy & Joe married May 5th, 2014 at Barcelo Maya Tropical, Riviera Maya

There doesn't seem to be enough ways to say thank-you to Courtney for helping us plan the wedding of our dreams. Right from our first meeting with her we knew we had made the right decision to work with her. She made handling all the details that come with planning a destination wedding go smoothly and took the utmost care in representing our requests to our Resort and tour provider. The service and effort that Courtney provided us was above and beyond what we could have ever asked for. Not only did we have a great professional relationship with her but we are proud to say we've gained a very great friendship with her that shall continue for years to come. With that said ...Courtney, thank-you thank-you thank-you!!!! Cheers!
Penni & Wayne married Apil. 3rd, 2014 at Moon Palace, Riviera Maya
I do not have enough great things to say about Courtney and the service she provided to Wayne and I through the wedding planning process. At the start we were hesitant to pay the wedding planning fee, but quickly came to see that it was more than worth it. Courtney handled all aspects of our wedding with great care and we grew to be friends in the process. I cannot imagine having planned the wedding without her help. She helped us narrow down resort choices and was honest in her opinion of what would work and what would not. She knew we had a large group, with children and needed a resort that would keep them entertained while providing us with the perfect location for our special day. All was done before hand, so all we had to do was arrive, go over what had already been planned and paid for, and enjoy! Courtney had to deal with some of my not so easy guests, and did so professionally. I am so happy that we chose her as our wedding planner. We had the best day of our lives and are already planning to have her take care of our group anniversary trip next year. She is the best and I will miss talking to her every day! Thank you Courtney!


Elizabeth & Alex married November 26th, 2013 at Jewel Runaway Bay, Jamaica.
When Alex and I started planning our wedding, we knew right away that we wanted a destination wedding. I am an American and he is Swedish but we live in Malmö, Sweden, so we were dreaming of warm beaches and sunny days for our November wedding. We did a lot of searching to try and find a travel agent to help us with this huge project. Unfortunately we did not come across Crystal Water Weddings right away and ended up working with another company. It was a disaster and we were left feeling extremely disappointed and frustrated. Luckily my fiance came across Crystal Water Weddings and we were put in touch with Courtney.
To be honest we were skeptical at first, we had been burned before, but Courtney put us at ease right away. Even though she was in Canada and we were in Sweden, she didn't let the distance or time difference keep her from contacting us every week and keeping us up to date with all the developments. She was quick to respond to my emails and I know she went above and beyond to get us the best deal possible for us and more importantly for our guests.
There were of course some bumps in the road, as in all wedding planning, but it was nothing that Courtney couldn't handle. Flights were cancelled, people backed out or wanted rooms at the last minute, photographers were MIA - but through it all Courtney was on top of the situation and was there to help solve the problem in anyway she could. She was on the phone with the airline sorting out cancelled flights, she worked through her contacts to find a room for a last minute guest even when the resort was "sold out" and above all she was an absolute pleasure to work with. I really looked forward to her weekly calls. I can highly recommend Courtney and Crystal Water Weddings if you are planning a destination wedding. You won't be disappointed.
Alexandra & Tyler married October 17th, 2013 at Dreams Puerto Adventuras, Riviera Maya
Karen,
Thank you so much for everything you have done for us & for putting up with our crazy family. You made our wedding planning stress free and we could not have done it without you.
Thanks
Alex & Ty

Tony & Melisa married November 19th, 2013 at Beach Palace, Cancun
As soon as Tony and I were engaged and decided to have a destination wedding ... I knew we needed help! I searched high and low for a destination wedding planner (trust me lol). When I came across Crystal Water Weddings and read about Victoria's wedding at Barcelo Los Cabos ... I knew she was the one! Plus, she was based out of Calgary which was a bonus! Victoria was just as excited as we were about getting married and that's what makes her so great! It made us feel so special! The passion and dedication she has with her clients is admirable. Victoria helped us with everything! From picking a location, resort, booking travel ... to helping us with what cake, minister, flowers and what table cloths to go with :-) Victoria was our "Go To Girl" ... our "Wonder Woman"... she had great ideas, answered emails/calls immediately and met with us whenever we wanted! Whenever, we would start to doubt something, Victoria would reassure us like she was apart of our family! She assisted with an unusual hiccup, we thought was hopeless and impossible ... but she pulled us through and truly went above and beyond to make everything not just right again ... but exceptionally better! Victoria, thank you for handling a little over 40 of our dearest family and friends' and not to mention us! Our sincerest thanks for dealing with our crazy requests, questions and uncertainties. You helped make our wedding day ... more special than we could have ever imagined! We will always remember our experience with you and be forever be grateful! We have already recommended Victoria to friends and family!
Michelle & Justin married August, 30th, 2013 at Memories Varadero, Cuba

My fiancée and I were planning our wedding and part way threw we decided to make it a destination wedding for cost reasons. Courtney did an amazing job taking care of every single detail and keeping within our budget. She really did go above and beyond in every aspect and was there to answer all our questions, and there were many, along with everyone else's as well. Courtney handled all of our questions and concerns and problems that have popped up along with way with professionalism and a positive, friendly attitude which was much appreciated given it being such a stressful time.
Without Courtney our day would not have went as flawlessly as it did. I would definitely recommend her to anyone looking to plan a destination wedding as she took all the stress and uncertainty out of it. Thanks to Courtney we will have a day we will never forget and a trip that everyone had a great time on and we will also have an agent for any future traveling we may do.
Michelle & Justin Rae
Tomasz & Marisa married July 9th, 2013 at Grand Sunset Princess, Playa Del Carmen.

I would like to start by saying Thank you to Victoria with Crystal Waters Weddings, her dedication and patience and attention to detail was beyond what we could have even begun to coordinate.
Victoria took care of every single detail from contacting our guests, organizing the travel, accommodations, special requests, and then not to mention the actually wedding day.
From the time we arrived at the airport in Edmonton and bored our plane and travel to the Mayan Rivera every single detail was taken care of, the direct flight, the storage of the wedding attire to arriving at the airport in Cancun and we bored our private air conditioned bus to take us and 43 guests to the Grand Sunset Princess where we meet the wedding coordinator there who took care of us with White Gloves.
The resort was beyond what we could have even imagined between Victoria and Araceli (Wedding Coordinator at the Resort). Our wedding day was beyond what we could have or even imagined, it was amazing, it was like a dream come true and a day we will never forget and cherish for the rest of our lives. Every one of our guest had the best time of their lives.

Leah & Ashley married April 6th, 2013 at Ocean Maya Royale, Playa Del Carmen

I don't even know how to start thanking Victoria enough for making our wedding literally the best day of our life. The second I first spoke with her I knew she had passion, which is EVERYTHING when it comes to your special day. She was there for every step of the way. She was always available to answer my emails and phone calls. When I was doubting something she would reassure me like a best friend. She truly is amazing and treated our wedding like it was her own. We couldn't be more pleased with her and have recommended her to our friends who are planning their wedding with her now! Thanks Victoria for being my fairy godmother!!

Travis & Asia married February 25, 2013 at Now Sapphire , Puerto Morelos
By Utilizing Courtney's unique personality and drive for perfection we were able to plan and have our dream wedding. A wedding we could have not of imagined. The decision to use Courtney as our destination wedding planner was one of the best decisions of our life.
We would like to thank Courtney for her outstanding service and commitment to what was quite honestly the greatest day of our life. We can honestly say our personal interactions while planning our wedding became more than a business venture; we developed a friendship and a personal understanding of one another.
Courtney's dedication, providing our over 40 guests with every answer and need they could possibly throw at her was a huge weight lifted off our shoulders. Courtney handled all our guests with complete care and professionalism
We know we were not the easiest people to deal with, being a young couple we had many questions, concerns and voiced our opinions on many things. With Courtney's experience and vast knowledge she was able to calm us and prepare us for every scenario we may face.
Words can't describe the amount of effort and commitment that was provided by Courtney. We would not hesitate to recommend Courtney to anyone.
We thank Courtney with all our hearts, for our beautiful and perfect day,
Travis & Asia Nystoruk

Rene & Mac married February 15th, 2013 at Now Jade, Puerto Morelos

We can't begin to thank Courtney enough for all her hard work and dedication to making this such an unforgettable experience for my wife and I. We definitely made the right decision going through Crystal Water Weddings, and more importantly, having Courtney as our wedding coordinator. She made the entire process enjoyable and stress free which allowed my wife and I the opportunity to truly enjoy our vacation. Courtney's experience and wealth of knowledge proved to be essential, enabling us to make not only informed decisions, but the entire process seem effortless.
Courtney's efforts and commitment to assisting all our guests with every possible question and request was, to put it mildly, an enormous weight lifted off our shoulders. She was a God send!
We highly recommend Crystal Water Weddings to anyone looking to plan a destination wedding. . . .trust me people, they know what they're doing and the beautiful pictures you see are proof of that!
Thank you again Courtney for making this experience so memorable and one we shall never forget!
Sincerely,
Rene and Mac

Tasneem & Jamil married November 8th, 2012 at Beach Palace, Cancun

Using Victoria at Crystal Water Weddings was one of the best decisions we ever made for our wedding.

Victoria made the planning process extremely stress free and was so enjoyable to work with. She was always extremely pleasant, cheerful and accommodating of all of our requests and our guests requests.

With unbelievable patience, Victoria was able to coordinate for 80 of our guests to travel to Mexico and many had different locations that they were coming from and returning to. She was fabulous. I can truly say that she went above and beyond for us and made this special time for us even better. We knew that with Victoria's assistance everything went very smoothly.

I would recommend Victoria without a seconds hesitation.
Tara & Todd planning November 11th, 2012 at Now Amber, Puerto Vallarta.

My name is Tara and I just wanted to take a moment and inform you of a wonderful experience I had with your company. I have been dealing with Courtney, for the last couple months trying to plan our destination wedding. I have dealt with alot of wedding specialist's and WOW nothing even compares to what she's done for us and the patience's she's had with us. I have never had to wait for more than 1 day, to have my questions answered, and service with a SMILE has always been provided. I remember trying to find a good company and it just seemed like I was asking for a MIRACLE, I was so discouraged when I found Courtney but she has brought the fun back in in. Todd and I are always waiting for something to go wrong seeing as it has in the past, but we have now discovered that we have absolutely nothing to worry about.I have built the trust up with Courtney and I know that it will be more than we are wishing for. It really takes a special person to do this job, and she has it all.
The respect that she gives Crystal Water Weddings, it just shows the talent this company has.The one thing that always stands out is when we were chatting about other Travel agency's and she looked at me and said" I couldn't ask to work for a better company or have a better boss". I would recommend Crystal Waster Weddings to everyone I know. THANK YOU AGAIN COURTNEY AND CRYSTAL WATER WEDDINGS.I'm not sure if you have employee awards, but if you doI think this deserves one.
I hope this is appreciated as much as I enjoyed writing it. Thank you again.
Sincerely.
Tara and Todd

Chelsea & Randol married July 21st, 2012 at the Werribee Mansion in Melbourne, Australia

We cannot begin to thank Victoria enough! My Husband and I were nearly at our wits end trying to plan a wedding around a military schedule (or lack there of). We had been running into road block after road block, and finally decided to elope to Australia. A big part of this decision was because the vendors in our own city were far less than helpful! Victoria, however, was an absolutely amazing person to deal with! She was friendly, helpful, more than patient (as all of our plans KEPT changing), and she was far more knowledgeable compared to most travel agents. Every detail that Victoria had help us arrange went so smoothly, and our wedding day was one that we will remember for a life time (or at least until alzheimer's kicks in). We only plan on this one marriage, but we will certainly book through Victoria for any of our future trips. Victoria and Crystal Water Weddings has turned our wedding planning nightmare into an absolute dream come true!!!!